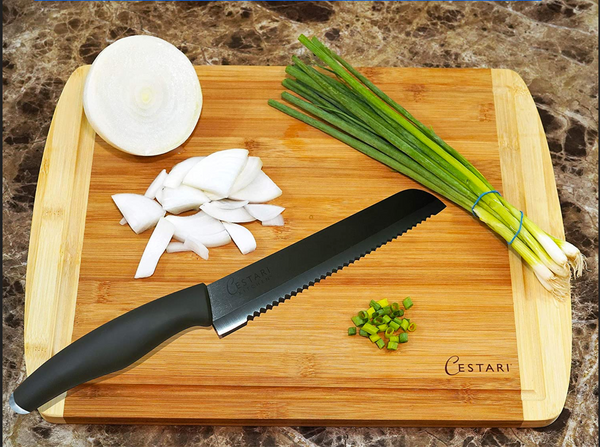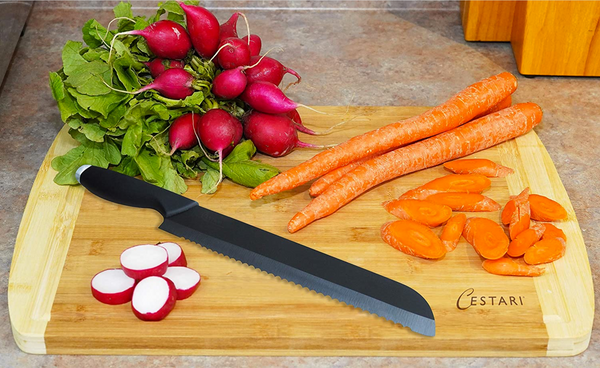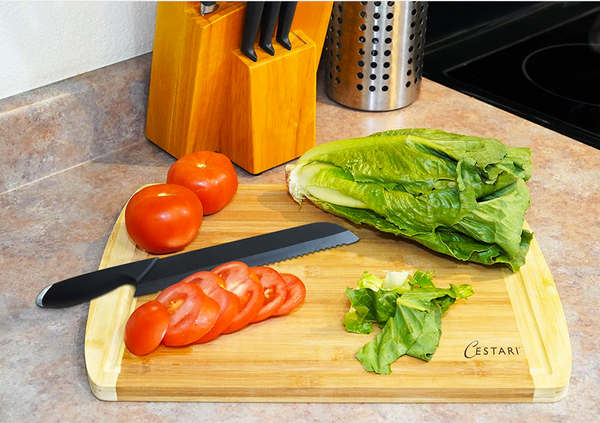 Cutting Boards: Organic Bamboo Cutting Board with Juice Grooves - Thick, Heavy Duty Wooden Butcher Block for Meat + Vegetables - Beautiful Serving Tray + Cheese Board - Ecofriendly (Large)
YOUR KNIVES WILL STAY SHARP LONGER Unlike plastic, glass, and traditional hardwood cutting boards, bamboo has a natural give which won't damage ceramic knife blades and is kind to stainless knives as well. Your knives and kitchen utensils will last longer when used to slice, chop, cut, dice, and prepare food on your bamboo kitchen cutting board. The extra large 16 x 12, heavy-duty, knife-safe cutting board is durable and stain resistant.

ADD THE NATURAL BEAUTY OF BAMBOO TO YOUR KITCHEN - Each cutting board is unique and different, displaying the shades and colors of the bamboo it was crafted from. This beautiful cutting surface can be displayed with fruit on the counter when not in use, and proudly brought to the dinner table as a serving plate after your meat, fish, or vegetables have been sliced and arranged

CONTAIN THE MESS WITH THE WIDE EDGE GROOVES – This pro cutting board features juice grooves to help catch drippings, oils, liquids, and other leaks or messes when carving roasts or grilled foods. The large surface is the perfect size to roll out pies, quiches, pizza, or bread, and the juice grooves turn into crumb trappers when used as a pastry board for dough preparation. This will totally shorten your clean-up time by keeping your counters clear of juice and debris.

STEP UP TO HEALTHIER FOOD PREPARATION While all cutting boards should be thoroughly washed when switching between cooked and raw foods, bamboo has unique natural properties to help reduce food cross contamination when cutting meats, cheeses, or vegetables. This cutting surface is an easy way to help keep your family safe at the same time that you help the environment by using renewable bamboo instead of plastic or endangered hardwoods. Bamboo is naturally BPA free.

LOVE IT OR YOUR MONEY BACK! – Every Cestari product is backed by unbeatable craftsmanship and is made to withstand chopping, slicing, dicing, and sharp knives! You can relax knowing that your Bamboo Cutting Board is backed by our no questions asked lifetime replacement warranty.
Bamboo Cutting Board Recipes and Tips Bamboo
Use and Care Instructions